LEADERS APPROACH FOR ESTABLISHMENT AND OPERARTING OF LIVING LABS
DESCRIPTION
'LEADERS approach' was originally developed in project 'Alcotra Innovation regional strategic project', aiming at the establishment of cross-border Living Labs in a variety of thematic domains on both sides of the French and Italian Alps (www.alcotra-innovazione.eu).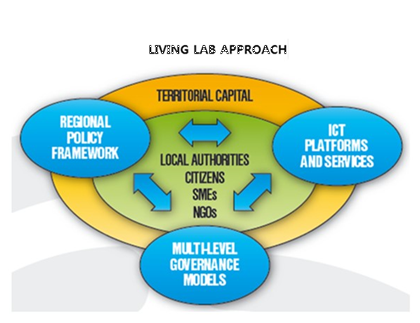 Characteristics of Living lab approach: bringing users early into the co-creation process, bridging the innovation gap between technology development and the uptake of new products and services, allowing early assessment of the socio-economic implications of new technological solutions.
Approach consists of three main axes: examination of existing regional policy framework, identifying most appropriate ICT platforms and services tested through PILOT projects, development of multi-level governance models for a permanent network structure.
Method LEADERS is implemented in 7 steps:
Localise and identify your stakeholders
Establish a Living Lab PPP (Public Private Partnership)
Assess the relevance of « cross border » issues
Deploy an ICT infrastructure
Establish a local and/or « cross border » PPPP community (PPP+People)
Run one or more User Driven, Open Innovation pilots
Summarise and evaluate the results.
Living lab approach supports cooperation between business, citizens and government, building on existing territorial capital (people, knowledge, assets),to set-up bottom-up living lab ecosystem in their local environment to enhance regional innovation potentials.
FOR WHO ?
Living lab environment encourages participation of regional stakeholders (organizations, citizens and government) in different thematic pilot project groups with the purpose to identify, design, implement and test pilot solutions in local environments.
Minimum and maximum number in stakeholders groups depends upon the needs. Development and testing of the pilot projects requires needs to be moderated and managed.
RESOURCES
Development and testing of the pilot projects requires moderation and management.
Human resources are needed to organize and steer thematic pilot stakeholders groups and process
PREPARATION OF PROCESS
The process of establishing living lab, design and testing of the pilot project, transfer and exchange of knowledge with other regional living labs takes minimum 24 months.
IMPLEMENTATION TIPS
Following supporting templates and tools can be used for steering the process:
SWOT analysis LEADERS approach template to identify and assess the topic/area of the living lab
Template document preparation of database of potential living lab stakeholders
Template Business model CANVAS to describe the pilot project idea
Template document Pilot Report Phase I for self-assessment
Template document Pilot Report Phase II for self-assessment
4 Pilot project workshops with living lab stakeholders to design and test pilot solution
Comparative analysis of pilot project template.
Available Support ICT tools:
On-line tool 'Wiki Space' (http://wikispace.com/) to share the pilot project concepts with pilot project groups,
Set-up of own web portal to share results with end users,
On-line tool 'Survey Monkey' (surveymonkey.com) to receive feedback from end users about developed service.
SHOW CASE
Establishment of ENERGY LIVING LAB, developing and testing pilot project 'Energy House AID'
LEADERS TEMPLATES
SHOWCASE LEADERS
Digitalization of Regional and Urban Food Networks in Košice region, Slovakia